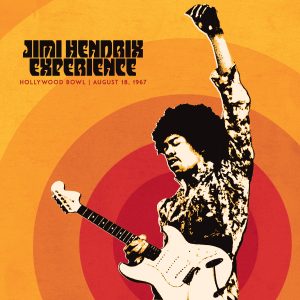 Sept. 19 — Experience Hendrix and Legacy Recordings will partner to release another archived Jimi Hendrix concert this fall.
Jimi Hendrix Experience: Hollywood Bowl Aug. 18, 1967 is scheduled for release Nov. 10 on CD, vinyl and through all digital platforms. The forthcoming release will mark the first time the concert has ever received an official release.
The concert featured in the previously unreleased presentation was held only five days prior to the release of Hendrix's debut album, Are You Experienced. That made the concert the band's breakthrough performance so to speak. It was the band on that edge of superstardom, having taken place in front of more than 17,000 people.
In anticipation of the recording's release Experience Hendrix, LLC and Legacy Recordings have made a clip of Hendrix and company performing 'Killing Floor' available to stream and download.
Additionally, a documentary about the rise of The Jimi Hendrix Experience is streaming now through YouTube.
The full track listing for the concert is noted below:
Jimi Hendrix Experience: Hollywood Bowl August 18, 1967 tracklist:
Side One
Introduction
Sgt. Pepper's Lonely Hearts Club Band
Killing Floor
The Wind Cries Mary
Foxey Lady
Catfish Blues
Side Two
Fire
Like a Rolling Stone
Purple Haze
Wild Thing
The recording's pending release will come more than a year after Experience Hendrix, LLC and Legacy Recordings released the then latest Hendrix live recording, Los Angeles Forum April 26, 1969.
More information on Hollywood Bowl Aug. 18, 1967 and other Jimi Hendrix releases is available online at:
Website: http://www.jimihendrix.com
Facebook: http://www.facebook.com/JimiHendrix
Twitter: http://twitter.com/JimiHendrix