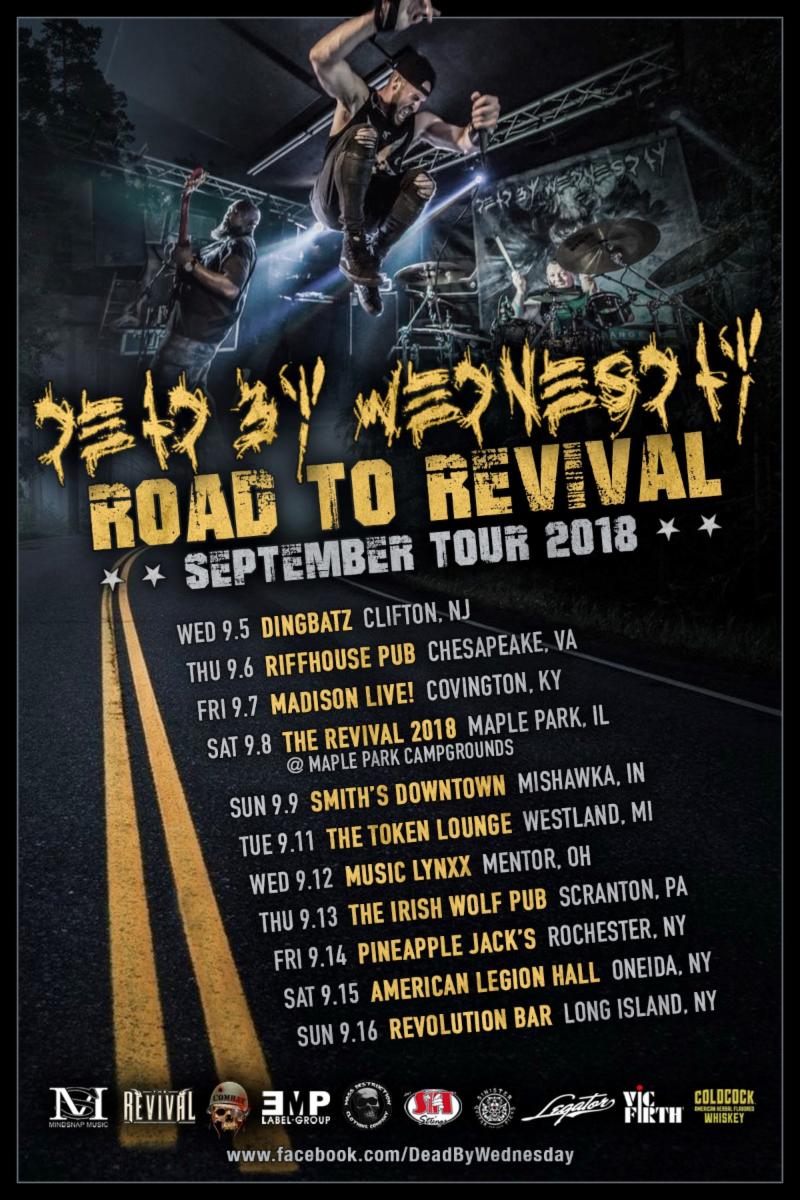 Connecticut heavy metal frontrunners DEAD BY WEDNESDAY are thrilled to announce their upcoming U.S. "Road To Revival" Tour, kicking off on September 5 in Clifton, NJ. The tour will visit several states in the east and Midwest, coming to an end on September 16 in Long Island, NY. See below for a full listing of tour dates.
On this upcoming run, DEAD BY WEDNESDAY will be joined by their new full-time guitarist, Dave Sharpe, formerly of Blood Has Been Shed featuring Howard Jones, and End Time Illusion.
DEAD BY WEDNESDAY
 recently wrapped up the recording process on their upcoming self-titled full-length album, coming this year via Combat Records. The album is being produced by Nicky Bellmore (Dee Snider, Jasta) and mastered by the one and only Zuess (Rob Zombie, Hatebreed, Suffocation). Watch an album promo video, including a snippet of new music, here: 
https://youtu.be/_CvNW7WnUw0
Drummer Opus says, "I am super pumped to be hitting the road again in September with our new kick ass guitarist Dave Sharpe. We can't wait to see our fans and people out there, and hopefully see some new faces too! Make sure you come out to a city or town near you and give Dave a warm welcome. It feels great to finally have a very tight and solid team working again.
Also, we're getting stoked on the release of our new upcoming self-titled full-length album. Next step is the making of our killer music video for our single, "You & Die"!"
DEAD BY WEDNESDAY Tour Dates:
9/5 – Clifton, NJ @ Dingbatz
9/6 – Chesapeake, VA @ RiffHouse Pub
9/7 – Covington, KY @ Madison Live!
9/8 – Maple Park, IL @ The REVIVAL 2018
9/9 – Mishawka, IN @ Smith's Downtown
9/11 – Westland, MI @ Token Lounge
9/12 – Mentor-on-the-Lake, OH @ Music Lynxx
9/13 – Scranton, PA @ The Irish Wolf Pub
9/14 – Rochester (Gates), NY @ Pineapple Jack's
9/15 – Oneida, NY @ American Legion Hall
9/16 – Long Island, NY @ Revolution Bar
DEAD BY WEDNESDAY is:
Mike Modeste – Bass & Vox